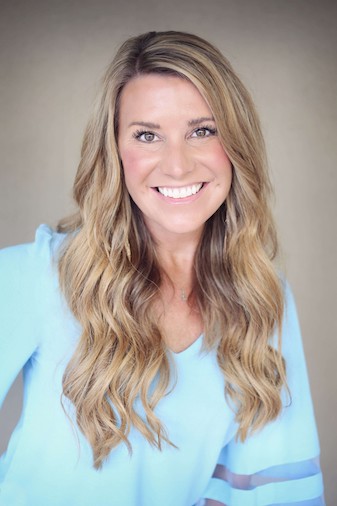 Doctor husband… check!
Beautiful adopted teenage daughter… check!
Two loving dogs… check!
A perfectly manicured lawn… check!
Dozens of holiday cards and party invites every year… check!
Fulfillment and happiness… NO CHECK
Despite my glossy exterior life, I was lonely, professionally unfulfilled, anxious and either running away from what I believed was the source of my unhappiness, or running toward what I believed would save me. At age 37, I was exhausted. 
I had completely abandoned myself to get validation from my husband, which always seemed out of reach. I desperately wanted to be rescued from this life I had created, but the fear of what others thought of me was my compass. Upsetting the apple cart in any way scared me to death.
Funny thing was, I had a passion for human behavior and faithfully followed the self-help literacy world for many years. I even saw a therapist and got my own Master's Degree in counseling! 
And yet, I was stuck. No matter what I read, I couldn't move past my fears of the unknown, not being in control, and imperfection. Most of all, I couldn't face my fear of being judged and rejected. Who would I be if I wasn't living for the approval of others? 
When I hit my breaking point I remember thinking, "Ok, I'm willing to lose everything. I can't do this anymore."
I had no idea the next three years would be the most life-altering, challenging and magical three years I had ever known.
This is when I found Tracy's podcast, and after the first episode, I knew it was different from the self-help books, education and therapy I had surrounded myself with in the past. It was action-based, not theory-based, and the focus was on ME changing, which felt empowering. 
At the time I was jumping from what I believed to be the source of my pain (my marriage) to what would rescue me (a new relationship). I was ready to do whatever it took to experience a healthy relationship with true emotional intimacy… something I thought only happened easily for other women. After I started coaching with Tracy, I realized I had spent my life actually avoiding intimacy. 
This work completely transformed my ability to love and value myself for ME, which affected every aspect of my life. I started pursuing goals I had put off for years due to fear of failure. I am more loving, brave, trusting, accepting of myself and others, and (most importantly) at peace. My relationships are more balanced, and I have a deeper connection to everyone around me.
Now that my life is fuller than I could've imagined, there is nothing more I desire than to coach others as they courageously challenge themselves to live a life of authenticity and openness. 
That feeling of calm and unconditional well-being are not elusive ideas that only others get to experience. A life of joy and unexpected blessings is available to anyone who allows it.
I know what it's like to be stuck and afraid of shattering the image others have of you. Change is scary, especially when you can't see where you block yourself from what you want. Having a coach hold my hand as I took those wobbly steps towards a life of emotional freedom is what enabled my transformation.
If you are ready to let go of what has been holding you back, I would be honored to be your guide. There is so much more available to you, and you deserve it.
I help men and women who struggle with anxiety and perfectionism, plus I specialize in challenges with adoption/parenting and women going through divorce.
RATES
| | | | |
| --- | --- | --- | --- |
| Payment Plan | # of Payments |  Payment Amt.  |  Total  |
| One payment | 1 | $4,500.00 | $4,500.00 |
| 3 payments | 3 | $1,725.00 | $5,175.00 |
_________________________________________________
Normal coaching plans are for 45 min sessions spanning a 6 month period (20 Sessions)
How To Work With Me
Schedule a free 15-minute Discovery Session by emailing happiness@tracycrossley.com.

Decide whether or not we're a good fit

Make your payment via credit card and schedule your first session!
What Clients are Saying
"Been there, done that… or have I? When it comes to counselling, therapy, etc there's not much I haven't tried… but alas none of it got to the core of my pain or to the core of who I am. After a painful breakup and hitting the infamous "rock bottom", I found Tracy's podcast and was ultimately matched with my coach Legan.

When I met Legan last fall I was barely functioning; my anxiety had become debilitating, I was feeling more lost and alone than ever, and was grieving the end of yet another painful relationship. Through Legan's insight and compassionate guidance my life has changed in ways I didn't imagine possible.   The most amazing thing: I no longer have anxiety. I've learned to live in the now… no longer ruminating about what was or what might be. I accept all parts of me… the good, the bad and the ugly. Thank you Legan… I will be forever grateful."

– Sandra
"I feel beyond lucky and grateful to have gotten the opportunity to work through several of my issues with Legan. I truly feel like a new person yet more myself than ever before..! While working with her I was able to let go of an unhealthy relationship, not without pain, but coming out of it stronger, more secure and more accepting of myself and I am now (finally!) no longer in fear of my future romantically and otherwise but instead I feel curious and excited for what and whom I will attract into my life as I feel better and happier with myself."

This is all 100% true! I still have a long way to go but I feel like I have a sense of how to work with the tools that we are given in Mastery and I understand how to apply them to my individual case better since working with you Legan… I am truly deeply grateful and I can't wait to get to work with you again privately in the future and to continue to learn from you in Mastery!

Sincerely and with love,
luciana.
"Working with Legan through one-on-one coaching has completely transformed my life for the better. I had found Tracy's podcast and was immediately addicted, having a resource that seemed so tuned in to all the things I struggled with. I decided to try coaching, so I could have some direct help talking through my issues. I cannot recommend coaching enough. Listening to podcasts, reading books, etc, those things are all great, but I would be no where I am today without Legan's help.

When I started, I was a totally different person than I am now. I had been through a miscarriage and a painful breakup with my long term partner, then fresh out of a short term toxic relationship. I was addicted to chemistry, and completely numb to my own feelings, struggling with anxiety and addiction issues. Legan helped me work through these issues one by one, digging into things to get to the cause. She gave me tools and insights that worked effectively that I am able to take with me post-coaching. Today, I am in a happy and healthy relationship with a loving partner. The best part is that those awful anxiety feelings are a thing of the past, and if they resurface I know how to deal with them. 

I am forever grateful to Legan for her compassionate and positive guidance. I only wish I would have found this sooner."

– Katie C
"One on one coaching with Legan was an incredible investment in my well being. I've learned how to tap into my emotions and broken long standing patterns of behavior. My favorite part of working with Legan is her warmth. She seamlessly feels like a friend but also makes me do the work. She knows what she's doing because she's been there too."

– Jess