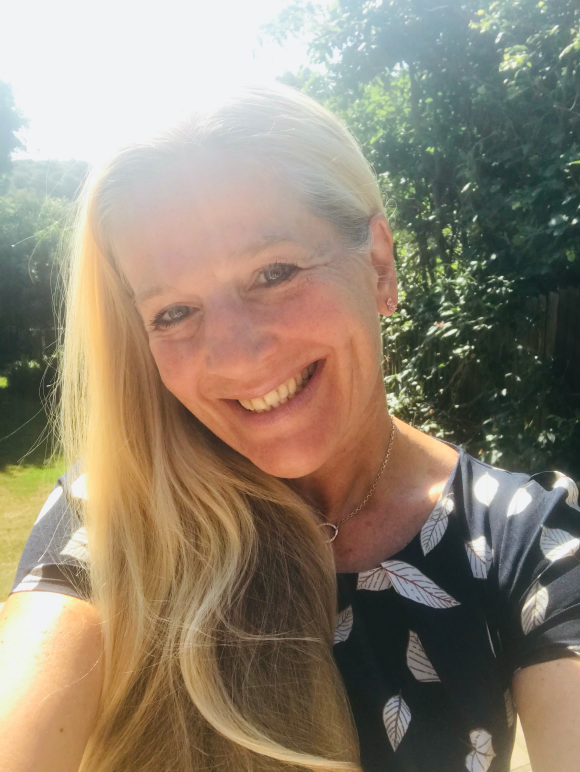 Growing up in a dysfunctional home with a bipolar, alcohol-dependent mother, I learned at a young age to neglect my feelings and engage with the world outside of myself. My coping skill was to achieve, which my brother and I both did quite successfully. I constantly sought external approval and validation because that was the only way I felt valued. As a Scottish born South African, I grew up in a judgmental society where I carried shame for what went on at home. We hid it from the world, and I hid from myself. Still, I had lots of love in my life and was fortunate to have a wonderful Methodist church family. I also leaned heavily on my brother, who I am most proud of today.
After graduating with a Psychology degree, I married my childhood sweetheart and we settled in the UK. Then, at age 29, I was diagnosed with Stage 3 breast cancer and became unable to have children. We divorced in my mid-30s, leaving me alone and confused. After a long and happy marriage, I didn't understand why I was attracting men who brought out the worst in me. This is when the true dysfunction of my intimate relationships began. I felt emotionally unbalanced and didn't know who I was. Then my dad died, which left me feeling even more alone and afraid.
I struggled for many years, unaware of how I was trying (unsuccessfully) to control everything as a perfectionist and people pleaser. The constant strategizing in my head was exhausting. I was like a talking head that spread a lot of "fake news" to myself because I didn't know how to feel. I was totally disconnected from myself and needed a lot of reassurance from others, making me feel like an emotional junkie. Another controlling move was attaching to outcomes. When something I wanted didn't happen, I would experience crushing disappointment, which I couldn't handle, so I would run away and shut down. I abandoned myself in this way again and again.
In 2018 I found Tracy, who helped me find a new love for myself. I am able to feel my feelings and trust that I will be okay no matter what happens, which has led to an emotional freedom that is life-changing. I am also aware of my limiting beliefs and the stories that have kept me stuck. I have not only boosted my self-esteem, but also my value and self-worth. As the quote goes, "If you want to stop being a doormat, you've got to get up off the floor and walk!" My work with Tracy has definitely gotten me off the floor! It also led me to her coach training program so I could help others do the same.
Today I am happily living in Surrey, England, working as a Human Resource Generalist and Coach. My life is full and active as a volunteer, marathon runner, friend, spiritual, and more. I even auditioned for the X-Factor in the UK to meet Simon Cowell! Needless to say, I am not earning my living through singing. I am divorced, and share my love with two little dogs: Pepper and Lexy. Those who know me would describe me as fun, funny, kind and compassionate, with a love for contribution.
I work with people who identify with my story and seek emotional freedom. As a coach, I will help you connect with yourself by uncovering your limiting beliefs and the stories that dictate your life. Value, self-worth, and trusting yourself are all possible if you are willing to put in the work. It has changed my life, so I hope to join you on your journey!
RATES
| | | | | |
| --- | --- | --- | --- | --- |
| Payment Plan | # of Payments |  Payment Amt.  | Price per Session |  Total  |
| One payment | 1 |  $2,500.00 |  $96.15 |  $2,500.00 |
| 3 payments | 3 |  $999.00 |  $115.27 |  $2,997.00 |
| One-off session | 1 |  $125.00 |  $125.00 |  $125.00 |
| 6 Laser session package | 1 |  $600.00 |  $600.00 |  $600.00 |
_________________________________________________
Normal coaching plans are for 45 min sessions spanning a 6 month period (26 Sessions)
Laser sessions (these are 15-20 minute sessions meant to focus on one thing during the session)
I worked with Ros over two and a half months in Autumn 2020, her excellent listening along with pointed questions immediately helped me start get to the bottom of a number of issues which have held me back historically. Her thoughtful approach helped me work through them in a very positive and helpful way. Ros' approach and philosophy around coaching was fantastic and has helped me tremendously in my day to day life. I could see the benefits after only a few sessions and she helped me reframe my outlook in a far more healthy way. I am extremely grateful to Ros and recommend her wholeheartedly.
— Sarah (London)
"I have just finished 10 sessions of coaching with Rosalind and over this period it was always a pleasure to see Ros's face on my screen and to hear her encouraging voice.

I would talk about whatever was coming up for me that week and I have to say I felt extremely heard, understood and supported by her. One of the advantages I found with working with Ros is that she can understand and empathise with me as a person with insecure attachment because she has experience of this in her own life and knows exactly what huge detrimental affects this can cause.

There were some weeks when I really thought and believed that all this work is just too difficult, futile and it did not seem possible that I could change my life, patterns, beliefs etc. This is when Ros would quote Tracy Crossley and say ' You have the universal right to stay the same ' she would also explain that this work is not for the faint hearted and can be very painful however it is necessary and essential to be able to change, move forward and grow. This would always encourage me and make me determined to have faith in myself and carry on.

After most sessions Ros would send me information to read connected to things I was finding difficult and also challenges to fulfil by the next session, which was great for me as I feel I need to be accountable to someone and find it difficult to be self disciplined and motivated.

I felt my sessions with Ros have been invaluable and would highly recommend her to anyone who is thinking of having coaching."
–Debbie M
I want to personally thank and highly recommend Rosalind as a coach.
Over our 10 + weeks together she listened and guided me through a challenging time. Our main focus was my thoughts and actions around being anxiously attached. I came to realize there were many old + stuck patterns being played out.
Rosalind has many gifts to offer as a coach. Her greatest strength was her ability to listen and reflect. I would share what I had been working through that week and she had an innate ability to reflect back to me what she heard. It was very helpful to have her reflect back, in her own words what she was hearing, where i was making progress and if not direct me to a knew way of looking at it. She kept me grounded in the present and reminded me to take care of me. I had a huge breakthrough towards the end of our time together about being in my body! i would notice if I was thinking about or interacting with the man I am attached too how I would leave my body. After 2 years of trying to figure out "what was wrong with me" i realized in "leaving my body" i was unable to be authentic. I am grateful for our time together and hope to work with Rosalind in the future.
–Shannon
Schedule a Discovery Session with Rosalind
No calendar available at this time. Please contact happiness@tracycrossley.com to schedule a session.